Hello to all, welcome to therichpost.com. In this post, I will tell you, What is Wordpress? Useful Information on Wordpress.
First, I will give you little information my journey with Wordpress.  I started my journey with Wordpress 3.5 years ago.  When I started it, everyone told that this is easy and simple and just needed html knowledge but after started working on it, I told everyone that yes it is easy and simple but Wordpress has lots of feature more and that all needed strong oops and strong logical knowledge . 
Now I will tell you, What is Wordpress?
Wordpress is free and open source content management system founded by Matt Mullenweg and Initial release  date of Wordpress is 27 may 2003. Matt Mullenweg is an American living in San Francisco.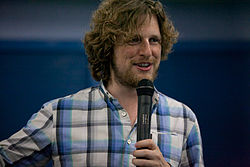 Photo credited by google
Now comes on Wordpress, How to start work with Wordpress?
Wordpress is free to download before download you just need Xampp or Wamp installed on your machine. Here is the link from where, you can download the wordpress on your local machine:
 Download Wordpress Latest Version
 and after all this Wordpress setup and working your first Wordpress test site, everyone should remember these basics wordpress security tips following by below link address:
 Wordpress Startup Security Tips
With these Wordpress Security tips, we can secure our wordpress without any help of security plugin. With the help of Wordpress, we can create any kind of website and this is the best thing about Wordpress. Wordpress is the most used CMS and more than 61 millions websites build in it. According to my estimates, I also made approximately 250 website in wordpress, with this you can imagine the popularity of Wordpress. Wordpress made blogging easy and profitable, like I am doing. More than 90% Blogs are in Wordpress because its tools like seo, friendly urls, cool looks themes(Like I am also using it) etc.
Now come to Wordpress Technical information:
On my blog, I wrote to many posts on wordpress and here are link for that all posts and these all are helpful:
 Working with wordpress, we should always remember some wordpress development rules for quality work and on below link you can find that rules:
 There are lots of information, things, codes or i can say there millions of lines for Wordpress. The main thing about Wordpress like code, hooks, tricks etc and we can only learn all these during working with wordpress.I also want to know your views on this post because If you will appreciate it then I will write more good post on other cms and languages. I am waiting for your comment on this. Thank you.