Hello friends, welcome back on blog. Today in this blog post, I am going to tell you, Laravel 8 Powerful Ecommerce Admin Panel Template Free.
Same working demo in Angular 12: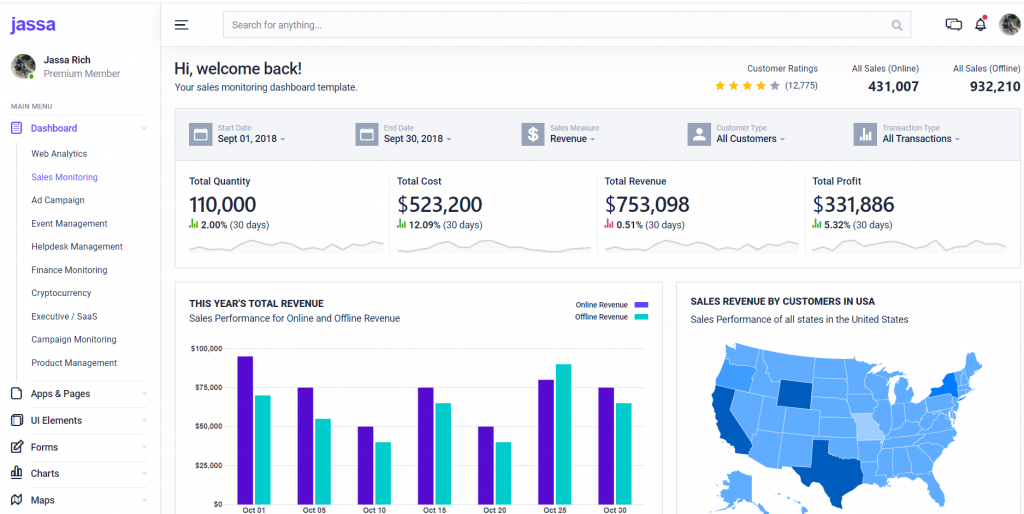 ---
Guys if you are new in Laravel8 the please check below link for Laravel basics information:
Laravel Basics Tutorial for beginners
---
Here is the code snippet for Laravel 8 Ecommerce Templates Free and please use carefully:
1. Friends here is the code below and you can add into your resources/views/ welcome.blade.php file:
Guys for demo purpose, I have used this code into my welcome blade:
<!DOCTYPE html>
<html>
<meta name="viewport" content="width=device-width, initial-scale=1.0">
  <!-- vendor css -->
  <link href="assets/css/all.min.css" rel="stylesheet">
 <link href="assets/css/ionicons.min.css" rel="stylesheet">
 <link href="assets/css/typicons.css" rel="stylesheet">
 <link href="assets/css/morris.css" rel="stylesheet">
 <link href="assets/css/flag-icon.min.css" rel="stylesheet">
 <link href="assets/css/jqvmap.min.css" rel="stylesheet">

 <!-- Therichpost CSS -->
 <link rel="stylesheet" href="assets/css/therich.css">
 
 <script src="assets/js/jquery.min.js"></script>
 <script src="assets/js/bootstrap.bundle.min.js"></script>
 <script src="https://unpkg.com/ionicons@5.5.2/dist/ionicons/ionicons.js"></script>
 <script src="assets/js/jquery.sparkline.min.js"></script>
 <script src="assets/js/raphael.min.js"></script>
 <script src="assets/js/morris.min.js"></script>
 <script src="assets/js/jquery.vmap.min.js"></script>
 <script src="assets/js/jquery.vmap.usa.js"></script>

 <script src="assets/js/jquery.cookie.js" type="text/javascript"></script>
 <script src="assets/js/therich.js"></script>
 <script>
   $(function(){
   
     'use strict'

     $('.tr-sidebar .with-sub').on('click', function(e){
       e.preventDefault();
       $(this).parent().toggleClass('show');
       $(this).parent().siblings().removeClass('show');
     })

     $(document).on('click touchstart', function(e){
       e.stopPropagation();

       // closing of sidebar menu when clicking outside of it
       if(!$(e.target).closest('.tr-header-menu-icon').length) {
         var sidebarTarg = $(e.target).closest('.tr-sidebar').length;
         if(!sidebarTarg) {
           $('body').removeClass('tr-sidebar-show');
         }
       }
     });


     $('#azSidebarToggle').on('click', function(e){
       e.preventDefault();

       if(window.matchMedia('(min-width: 992px)').matches) {
         $('body').toggleClass('tr-sidebar-hide');
       } else {
         $('body').toggleClass('tr-sidebar-show');
       }
     })

     /* ----------------------------------- */
     /* Dashboard content */

     $('#compositeline').sparkline('html', {
       lineColor: '#cecece',
       lineWidth: 2,
       spotColor: false,
       minSpotColor: false,
       maxSpotColor: false,
       highlightSpotColor: null,
       highlightLineColor: null,
       fillColor: '#f9f9f9',
       chartRangeMin: 0,
       chartRangeMax: 10,
       width: '100%',
       height: 20,
       disableTooltips: true
     });

     $('#compositeline2').sparkline('html', {
       lineColor: '#cecece',
       lineWidth: 2,
       spotColor: false,
       minSpotColor: false,
       maxSpotColor: false,
       highlightSpotColor: null,
       highlightLineColor: null,
       fillColor: '#f9f9f9',
       chartRangeMin: 0,
       chartRangeMax: 10,
       width: '100%',
       height: 20,
       disableTooltips: true
     });

     $('#compositeline3').sparkline('html', {
       lineColor: '#cecece',
       lineWidth: 2,
       spotColor: false,
       minSpotColor: false,
       maxSpotColor: false,
       highlightSpotColor: null,
       highlightLineColor: null,
       fillColor: '#f9f9f9',
       chartRangeMin: 0,
       chartRangeMax: 10,
       width: '100%',
       height: 20,
       disableTooltips: true
     });

     $('#compositeline4').sparkline('html', {
       lineColor: '#cecece',
       lineWidth: 2,
       spotColor: false,
       minSpotColor: false,
       maxSpotColor: false,
       highlightSpotColor: null,
       highlightLineColor: null,
       fillColor: '#f9f9f9',
       chartRangeMin: 0,
       chartRangeMax: 10,
       width: '100%',
       height: 20,
       disableTooltips: true
     });


     var morrisData = [
       { y: 'Oct 01', a: 95000, b: 70000 },
       { y: 'Oct 05', a: 75000,  b: 55000 },
       { y: 'Oct 10', a: 50000,  b: 40000 },
       { y: 'Oct 15', a: 75000,  b: 65000 },
       { y: 'Oct 20', a: 50000,  b: 40000 },
       { y: 'Oct 25', a: 80000, b: 90000 },
       { y: 'Oct 30', a: 75000,  b: 65000 }
     ];

     new Morris.Bar({
       element: 'morrisBar1',
       data: morrisData,
       xkey: 'y',
       ykeys: ['a', 'b'],
       labels: ['Online', 'Offline'],
       barColors: ['#560bd0', '#00cccc'],
       preUnits: '$',
       barSizeRatio: 0.55,
       gridTextSize: 11,
       gridTextColor: '#494c57',
       gridTextWeight: 'bold',
       gridLineColor: '#999',
       gridStrokeWidth: 0.25,
       hideHover: 'auto',
       resize: true,
       padding: 5
     });

     $('#vmap2').vectorMap({
       map: 'usa_en',
       showTooltip: true,
       backgroundColor: '#fff',
       color: '#60adff',
       colors: {
         mo: '#9fceff',
         fl: '#60adff',
         or: '#409cff',
         ca: '#005cbf',
         tx: '#005cbf',
         wy: '#005cbf',
         ny: '#007bff'
       },
       hoverColor: '#222',
       enableZoom: false,
       borderWidth: 1,
       borderColor: '#fff',
       hoverOpacity: .85
     });
    
   });
 </script>
</head>
<body class="tr-body tr-body-sidebar">

<div class="tr-sidebar">
  <div class="tr-sidebar-header">
    <a href="#" class="tr-logo">Ja<span>ss</span>a</a>
  </div><!-- tr-sidebar-header -->
  <div class="tr-sidebar-loggedin">
    <div class="tr-img-user online"><img src="https://secure.gravatar.com/avatar/d09eaad01aea86c51b4f892b4f8abf6f?s=96&d=wavatar&r=g" alt=""></div>
    <div class="media-body">
      <h6>Jassa Rich</h6>
      <span>Premium Member</span>
    </div><!-- media-body -->
  </div><!-- tr-sidebar-loggedin -->
  <div class="tr-sidebar-body">
    <ul class="nav">
      <li class="nav-label">Main Menu</li>
      <li class="nav-item active show">
        <a href="#" class="nav-link with-sub"><i class="typcn typcn-clipboard"></i>Dashboard</a>
        <ul class="nav-sub">
          <li class="nav-sub-item"><a href="#" class="nav-sub-link">Web Analytics</a></li>
          <li class="nav-sub-item active"><a href="#" class="nav-sub-link">Sales Monitoring</a></li>
          <li class="nav-sub-item"><a href="#" class="nav-sub-link">Ad Campaign</a></li>
          <li class="nav-sub-item"><a href="#" class="nav-sub-link">Event Management</a></li>
          <li class="nav-sub-item"><a href="#" class="nav-sub-link">Helpdesk Management</a></li>
          <li class="nav-sub-item"><a href="#" class="nav-sub-link">Finance Monitoring</a></li>
          <li class="nav-sub-item"><a href="#" class="nav-sub-link">Cryptocurrency</a></li>
          <li class="nav-sub-item"><a href="#" class="nav-sub-link">Executive / SaaS</a></li>
          <li class="nav-sub-item"><a href="#" class="nav-sub-link">Campaign Monitoring</a></li>
          <li class="nav-sub-item"><a href="#" class="nav-sub-link">Product Management</a></li>
        </ul>
      </li><!-- nav-item -->
      <li class="nav-item">
        <a href="" class="nav-link with-sub"><i class="typcn typcn-document"></i>Apps &amp; Pages</a>
        <ul class="nav-sub">
          <li class="nav-sub-item">
            <a href="#" class="nav-sub-link">Mailbox</a>
          </li>
          <li class="nav-sub-item">
            <a href="#" class="nav-sub-link">Chat</a>
          </li>
          <li class="nav-sub-item">
            <a href="#" class="nav-sub-link">Calendar</a>
          </li>
          <li class="nav-sub-item">
            <a href="#" class="nav-sub-link">Contacts</a>
          </li>
          <li class="nav-sub-item"><a href="#" class="nav-sub-link">Kanban</a></li>
          <li class="nav-sub-item"><a href="#" class="nav-sub-link">Tickets</a></li>
          <li class="nav-sub-item"><a href="#" class="nav-sub-link">Profile</a></li>
          <li class="nav-sub-item"><a href="#" class="nav-sub-link">Invoice</a></li>
          <li class="nav-sub-item"><a href="#" class="nav-sub-link">Sign In</a></li>
          <li class="nav-sub-item"><a href="#" class="nav-sub-link">Sign Up</a></li>
          <li class="nav-sub-item"><a href="#" class="nav-sub-link">Page 404</a></li>
          <li class="nav-sub-item"><a href="#" class="nav-sub-link">Faq</a></li>
          <li class="nav-sub-item"><a href="#" class="nav-sub-link">News Grid</a></li>
          <li class="nav-sub-item"><a href="#" class="nav-sub-link">Product Catalogue</a></li>
          <li class="nav-sub-item"><a href="#" class="nav-sub-link">Project List</a></li>
          <li class="nav-sub-item"><a href="#" class="nav-sub-link">Orders</a></li>
          <li class="nav-sub-item"><a href="#" class="nav-sub-link">Pricing</a></li>
          <li class="nav-sub-item"><a href="#" class="nav-sub-link">Landing Page</a></li>
          
        </ul>
      </li><!-- nav-item -->
      <li class="nav-item">
        <a href="" class="nav-link with-sub"><i class="typcn typcn-book"></i>UI Elements</a>
        <ul class="nav-sub">
          <li class="nav-sub-item"><a href="#" class="nav-sub-link">Accordion</a></li>
          <li class="nav-sub-item"><a href="#" class="nav-sub-link">Alerts</a></li>
          <li class="nav-sub-item"><a href="#" class="nav-sub-link">Avatar</a></li>
          <li class="nav-sub-item"><a href="#" class="nav-sub-link">Badge</a></li>
          <li class="nav-sub-item"><a href="#" class="nav-sub-link">Breadcrumbs</a></li>
          <li class="nav-sub-item"><a href="#" class="nav-sub-link">Buttons</a></li>
          <li class="nav-sub-item"><a href="#" class="nav-sub-link">Cards</a></li>
          <li class="nav-sub-item"><a href="#" class="nav-sub-link">Carousel</a></li>
          <li class="nav-sub-item"><a href="#" class="nav-sub-link">Collapse</a></li>
          <li class="nav-sub-item"><a href="#" class="nav-sub-link">Dropdown</a></li>
          <li class="nav-sub-item"><a href="#" class="nav-sub-link">Icons</a></li>
          <li class="nav-sub-item"><a href="#" class="nav-sub-link">Images</a></li>
          <li class="nav-sub-item"><a href="#" class="nav-sub-link">List Group</a></li>
          <li class="nav-sub-item"><a href="#" class="nav-sub-link">Media Object</a></li>
          <li class="nav-sub-item"><a href="#" class="nav-sub-link">Modals</a></li>
          <li class="nav-sub-item"><a href="#" class="nav-sub-link">Navigation</a></li>
          <li class="nav-sub-item"><a href="#" class="nav-sub-link">Pagination</a></li>
          <li class="nav-sub-item"><a href="#" class="nav-sub-link">Popover</a></li>
          <li class="nav-sub-item"><a href="#" class="nav-sub-link">Progress</a></li>
          <li class="nav-sub-item"><a href="#" class="nav-sub-link">Spinners</a></li>
          <li class="nav-sub-item"><a href="#" class="nav-sub-link">Toast</a></li>
          <li class="nav-sub-item"><a href="#" class="nav-sub-link">Tooltip</a></li>
        </ul>
      </li><!-- nav-item -->
      <li class="nav-item">
        <a href="" class="nav-link with-sub"><i class="typcn typcn-edit"></i>Forms</a>
        <ul class="nav-sub">
          <li class="nav-sub-item"><a href="#" class="nav-sub-link">Form Elements</a></li>
          <li class="nav-sub-item"><a href="#" class="nav-sub-link">Form Layouts</a></li>
          <li class="nav-sub-item"><a href="#" class="nav-sub-link">Form Validation</a></li>
          <li class="nav-sub-item"><a href="#" class="nav-sub-link">Form Wizards</a></li>
          <li class="nav-sub-item"><a href="#" class="nav-sub-link">WYSIWYG Editor</a></li>
        </ul>
      </li><!-- nav-item -->
      <li class="nav-item">
        <a href="" class="nav-link with-sub"><i class="typcn typcn-chart-bar-outline"></i>Charts</a>
        <ul class="nav-sub">
          <li class="nav-sub-item"><a href="#" class="nav-sub-link">Morris Charts</a></li>
          <li class="nav-sub-item"><a href="#" class="nav-sub-link">Flot Charts</a></li>
          <li class="nav-sub-item"><a href="#" class="nav-sub-link">ChartJS</a></li>
          <li class="nav-sub-item"><a href="#" class="nav-sub-link">Sparkline</a></li>
          <li class="nav-sub-item"><a href="#" class="nav-sub-link">Peity</a></li>
        </ul>
      </li><!-- nav-item -->
      <li class="nav-item">
        <a href="" class="nav-link with-sub"><i class="typcn typcn-map"></i>Maps</a>
        <ul class="nav-sub">
          <li class="nav-sub-item"><a href="#" class="nav-sub-link">Google Maps</a></li>
          <li class="nav-sub-item"><a href="#" class="nav-sub-link">Leaflet</a></li>
          <li class="nav-sub-item"><a href="#" class="nav-sub-link">Vector Maps</a></li>
        </ul>
      </li><!-- nav-item -->
      <li class="nav-item">
        <a href="" class="nav-link with-sub"><i class="typcn typcn-tabs-outline"></i>Tables</a>
        <ul class="nav-sub">
          <li class="nav-sub-item"><a href="#" class="nav-sub-link">Basic Tables</a></li>
          <li class="nav-sub-item"><a href="#" class="nav-sub-link">Data Tables</a></li>
        </ul>
      </li><!-- nav-item -->
      <li class="nav-item">
        <a href="" class="nav-link with-sub"><i class="typcn typcn-archive"></i>Utilities</a>
        <ul class="nav-sub">
          <li class="nav-sub-item"><a href="#" class="nav-sub-link">Background</a></li>
          <li class="nav-sub-item"><a href="#" class="nav-sub-link">Border</a></li>
          <li class="nav-sub-item"><a href="#" class="nav-sub-link">Display</a></li>
          <li class="nav-sub-item"><a href="#" class="nav-sub-link">Flex</a></li>
          <li class="nav-sub-item"><a href="#" class="nav-sub-link">Height</a></li>
          <li class="nav-sub-item"><a href="#" class="nav-sub-link">Margin</a></li>
          <li class="nav-sub-item"><a href="#" class="nav-sub-link">Padding</a></li>
          <li class="nav-sub-item"><a href="#" class="nav-sub-link">Position</a></li>
          <li class="nav-sub-item"><a href="#" class="nav-sub-link">Typography</a></li>
          <li class="nav-sub-item"><a href="#" class="nav-sub-link">Width</a></li>
          <li class="nav-sub-item"><a href="#" class="nav-sub-link">Extras</a></li>
        </ul>
      </li><!-- nav-item -->
    </ul><!-- nav -->
  </div><!-- tr-sidebar-body -->
</div><!-- tr-sidebar -->

<div class="tr-content tr-content-dashboard-two">
  <div class="tr-header">
    <div class="container-fluid">
      <div class="tr-header-left">
        <a href="" id="azSidebarToggle" class="tr-header-menu-icon"><span></span></a>
      </div><!-- tr-header-left -->
      <div class="tr-header-center">
        <input type="search" class="form-control" placeholder="Search for anything...">
        <button class="btn"><i class="fas fa-search"></i></button>
      </div><!-- tr-header-center -->
      <div class="tr-header-right">
        <div class="tr-header-message">
          <a href="#"><i class="typcn typcn-messages"></i></a>
        </div><!-- tr-header-message -->
        <div class="dropdown tr-header-notification">
          <a href="" class="new"><i class="typcn typcn-bell"></i></a>
          <div class="dropdown-menu">
            <div class="tr-dropdown-header mg-b-20 d-sm-none">
              <a href="" class="tr-header-arrow"><i class="icon ion-md-arrow-back"></i></a>
            </div>
            <h6 class="tr-notification-title">Notifications</h6>
            <p class="tr-notification-text">You have 2 unread notification</p>
            <div class="tr-notification-list">
              <div class="media new">
                <div class="tr-img-user"><img src="https://secure.gravatar.com/avatar/d09eaad01aea86c51b4f892b4f8abf6f?s=96&d=wavatar&r=g" alt=""></div>
                <div class="media-body">
                  <p>Congratulate <strong>Jassa Jas</strong> for work anniversaries</p>
                  <span>Mar 15 12:32pm</span>
                </div><!-- media-body -->
              </div><!-- media -->
              <div class="media new">
                <div class="tr-img-user online"><img src="https://secure.gravatar.com/avatar/d09eaad01aea86c51b4f892b4f8abf6f?s=96&d=wavatar&r=g" alt=""></div>
                <div class="media-body">
                  <p><strong>Jassa Chua</strong> just created a new blog post</p>
                  <span>Mar 13 04:16am</span>
                </div><!-- media-body -->
              </div><!-- media -->
              <div class="media">
                <div class="tr-img-user"><img src="https://secure.gravatar.com/avatar/d09eaad01aea86c51b4f892b4f8abf6f?s=96&d=wavatar&r=g" alt=""></div>
                <div class="media-body">
                  <p><strong>Jassa Cabardo</strong> just created a new blog post</p>
                  <span>Mar 13 02:56am</span>
                </div><!-- media-body -->
              </div><!-- media -->
              <div class="media">
                <div class="tr-img-user"><img src="https://secure.gravatar.com/avatar/d09eaad01aea86c51b4f892b4f8abf6f?s=96&d=wavatar&r=g" alt=""></div>
                <div class="media-body">
                  <p><strong>Jassa Monino</strong> added new comment on your photo</p>
                  <span>Mar 12 10:40pm</span>
                </div><!-- media-body -->
              </div><!-- media -->
            </div><!-- tr-notification-list -->
            <div class="dropdown-footer"><a href="">View All Notifications</a></div>
          </div><!-- dropdown-menu -->
        </div><!-- tr-header-notification -->
        <div class="dropdown tr-profile-menu">
          <a href="" class="tr-img-user"><img src="https://secure.gravatar.com/avatar/d09eaad01aea86c51b4f892b4f8abf6f?s=96&d=wavatar&r=g" alt=""></a>
          <div class="dropdown-menu">
            <div class="tr-dropdown-header d-sm-none">
              <a href="" class="tr-header-arrow"><i class="icon ion-md-arrow-back"></i></a>
            </div>
            <div class="tr-header-profile">
              <div class="tr-img-user">
                <img src="https://secure.gravatar.com/avatar/d09eaad01aea86c51b4f892b4f8abf6f?s=96&d=wavatar&r=g" alt="">
              </div><!-- tr-img-user -->
              <h6>jassa Pechon</h6>
              <span>Premium Member</span>
            </div><!-- tr-header-profile -->

            <a href="" class="dropdown-item"><i class="typcn typcn-user-outline"></i> My Profile</a>
            <a href="" class="dropdown-item"><i class="typcn typcn-edit"></i> Edit Profile</a>
            <a href="" class="dropdown-item"><i class="typcn typcn-time"></i> Activity Logs</a>
            <a href="" class="dropdown-item"><i class="typcn typcn-cog-outline"></i> Account Settings</a>
            <a href="#" class="dropdown-item"><i class="typcn typcn-power-outline"></i> Sign Out</a>
          </div><!-- dropdown-menu -->
        </div>
      </div><!-- tr-header-right -->
    </div><!-- container -->
  </div><!-- tr-header -->
  <div class="tr-content-header d-block d-md-flex">
    <div>
      <h2 class="tr-content-title tx-24 mg-b-5 mg-b-lg-8">Hi, welcome back!</h2>
      <p class="mg-b-0">Your sales monitoring dashboard template.</p>
    </div>
    <div class="tr-dashboard-header-right">
      <div>
        <label class="tx-13">Customer Ratings</label>
        <div class="tr-star">
          <i class="typcn typcn-star active"></i>
          <i class="typcn typcn-star active"></i>
          <i class="typcn typcn-star active"></i>
          <i class="typcn typcn-star active"></i>
          <i class="typcn typcn-star"></i>
          <span>(12,775)</span>
        </div>
      </div>
      <div>
        <label class="tx-13">All Sales (Online)</label>
        <h5>431,007</h5>
      </div>
      <div>
        <label class="tx-13">All Sales (Offline)</label>
        <h5>932,210</h5>
      </div>
    </div><!-- tr-dashboard-header-right -->
  </div><!-- tr-content-header -->
  <div class="tr-content-body">
    <div class="card card-dashboard-seven">
      <div class="card-header">
        <div class="row row-sm">
          <div class="col-6 col-md-4 col-xl">
            <div class="media">
              <div><i class="icon ion-ios-calendar"></i></div>
              <div class="media-body">
                <label>Start Date</label>
                <div class="date">
                  <span>Sept 01, 2018</span> <a href=""><i class="icon ion-md-arrow-dropdown"></i></a>
                </div>
              </div>
            </div><!-- media -->
          </div>
          <div class="col-6 col-md-4 col-xl">
            <div class="media">
              <div><i class="icon ion-ios-calendar"></i></div>
              <div class="media-body">
                <label>End Date</label>
                <div class="date">
                  <span>Sept 30, 2018</span> <a href=""><i class="icon ion-md-arrow-dropdown"></i></a>
                </div>
              </div>
            </div><!-- media -->
          </div>
          <div class="col-6 col-md-4 col-xl mg-t-15 mg-md-t-0">
            <div class="media">
              <div><i class="icon ion-logo-usd"></i></div>
              <div class="media-body">
                <label>Sales Measure</label>
                <div class="date">
                  <span>Revenue</span> <a href=""><i class="icon ion-md-arrow-dropdown"></i></a>
                </div>
              </div>
            </div><!-- media -->
          </div>
          <div class="col-6 col-md-4 col-xl mg-t-15 mg-xl-t-0">
            <div class="media">
              <div><i class="icon ion-md-person"></i></div>
              <div class="media-body">
                <label>Customer Type</label>
                <div class="date">
                  <span>All Customers</span> <a href=""><i class="icon ion-md-arrow-dropdown"></i></a>
                </div>
              </div>
            </div><!-- media -->
          </div>
          <div class="col-md-4 col-xl mg-t-15 mg-xl-t-0">
            <div class="media">
              <div><i class="icon ion-md-stats"></i></div>
              <div class="media-body">
                <label>Transaction Type</label>
                <div class="date">
                  <span>All Transactions</span> <a href=""><i class="icon ion-md-arrow-dropdown"></i></a>
                </div>
              </div>
            </div><!-- media -->
          </div>
        </div><!-- row -->
      </div><!-- card-header -->
      <div class="card-body">
        <div class="row row-sm">
          <div class="col-6 col-lg-3">
            <label class="tr-content-label">Total Quantity</label>
            <h2>110,000</h2>
            <div class="desc up">
              <i class="icon ion-md-stats"></i>
              <span><strong>2.00%</strong> (30 days)</span>
            </div>
            <span id="compositeline2">5,9,5,6,4,12,18,14,10,15,12,5,8,5,12,5,12,10,16,12</span>
          </div><!-- col -->
          <div class="col-6 col-lg-3">
            <label class="tr-content-label">Total Cost</label>
            <h2><span>$</span>523,200</h2>
            <div class="desc up">
              <i class="icon ion-md-stats"></i>
              <span><strong>12.09%</strong> (30 days)</span>
            </div>
            <span id="compositeline">3,2,4,6,12,14,8,7,14,16,12,7,8,4,3,2,2,5,6,7</span>
          </div><!-- col -->
          <div class="col-6 col-lg-3 mg-t-20 mg-lg-t-0">
            <label class="tr-content-label">Total Revenue</label>
            <h2><span>$</span>753,098</h2>
            <div class="desc down">
              <i class="icon ion-md-stats"></i>
              <span><strong>0.51%</strong> (30 days)</span>
            </div>
            <span id="compositeline4">5,9,5,6,4,12,18,14,10,15,12,5,8,5,12,5,12,10,16,12</span>
          </div><!-- col -->
          <div class="col-6 col-lg-3 mg-t-20 mg-lg-t-0">
            <label class="tr-content-label">Total Profit</label>
            <h2><span>$</span>331,886</h2>
            <div class="desc up">
              <i class="icon ion-md-stats"></i>
              <span><strong>5.32%</strong> (30 days)</span>
            </div>
            <span id="compositeline3">5,10,5,20,22,12,15,18,20,15,8,12,22,5,10,12,22,15,16,10</span>
          </div><!-- col -->
        </div><!-- row -->
      </div><!-- card-body -->
    </div><!-- card -->

    <div class="row row-sm mg-b-15 mg-sm-b-20">
      <div class="col-lg-6 col-xl-7">
        <div class="card card-dashboard-six">
          <div class="card-header">
            <div>
              <label class="tr-content-label">This Year's Total Revenue</label>
              <span class="d-block">Sales Performance for Online and Offline Revenue</span>
            </div>
            <div class="chart-legend">
              <div><span>Online Revenue</span> <span class="bg-indigo"></span></div>
              <div><span>Offline Revenue</span> <span class="bg-teal"></span></div>
            </div>
          </div><!-- card-header -->
          <div id="morrisBar1" class="ht-200 ht-lg-250 wd-100p"></div>
        </div><!-- card -->
      </div><!-- col -->
      <div class="col-lg-6 col-xl-5 mg-t-20 mg-lg-t-0">
        <div class="card card-dashboard-map-one">
          <label class="tr-content-label">Sales Revenue by Customers in USA</label>
          <span class="d-block mg-b-20">Sales Performance of all states in the United States</span>
          <div id="vmap2" class="vmap-wrapper"></div>
        </div><!-- card -->
      </div><!-- col -->
    </div><!-- row -->

    <div class="row row-sm mg-b-20 mg-lg-b-0">
      <div class="col-md-6 col-xl-7">
        <div class="card card-table-two">
          <h6 class="card-title">Your Most Recent Earnings</h6>
          <span class="d-block mg-b-20">This is your most recent earnings for today's date.</span>
          <div class="table-responsive">
            <table class="table table-striped table-dashboard-two">
              <thead>
                <tr>
                  <th class="wd-lg-25p">Date</th>
                  <th class="wd-lg-25p tx-right">Sales Count</th>
                  <th class="wd-lg-25p tx-right">Earnings</th>
                  <th class="wd-lg-25p tx-right">Tax Witheld</th>
                </tr>
              </thead>
              <tbody>
                <tr>
                  <td>05 Oct 2018</td>
                  <td class="tx-right tx-medium tx-inverse">25</td>
                  <td class="tx-right tx-medium tx-inverse">$380.50</td>
                  <td class="tx-right tx-medium tx-danger">-$23.50</td>
                </tr>
                <tr>
                  <td>04 Oct 2018</td>
                  <td class="tx-right tx-medium tx-inverse">34</td>
                  <td class="tx-right tx-medium tx-inverse">$503.20</td>
                  <td class="tx-right tx-medium tx-danger">-$13.45</td>
                </tr>
                <tr>
                  <td>03 Oct 2018</td>
                  <td class="tx-right tx-medium tx-inverse">30</td>
                  <td class="tx-right tx-medium tx-inverse">$489.65</td>
                  <td class="tx-right tx-medium tx-danger">-$20.98</td>
                </tr>
                <tr>
                  <td>02 Oct 2018</td>
                  <td class="tx-right tx-medium tx-inverse">27</td>
                  <td class="tx-right tx-medium tx-inverse">$421.80</td>
                  <td class="tx-right tx-medium tx-danger">-$22.22</td>
                </tr>
                <tr>
                  <td>01 Oct 2018</td>
                  <td class="tx-right tx-medium tx-inverse">31</td>
                  <td class="tx-right tx-medium tx-inverse">$518.60</td>
                  <td class="tx-right tx-medium tx-danger">-$23.01</td>
                </tr>
              </tbody>
            </table>
          </div><!-- table-responsive -->
        </div><!-- card-dashboard-five -->
      </div>
      <div class="col-md-6 col-xl-5 mg-t-20 mg-md-t-0">
        <div class="card card-dashboard-eight">
          <h6 class="card-title">Your Top Countries</h6>
          <span class="d-block mg-b-20">Sales performance revenue based by country</span>

          <div class="list-group">
            <div class="list-group-item">
              <i class="flag-icon flag-icon-us flag-icon-squared"></i>
              <p>United States</p>
              <span>$1,671.10</span>
            </div><!-- list-group-item -->
            <div class="list-group-item">
              <i class="flag-icon flag-icon-nl flag-icon-squared"></i>
              <p>Netherlands</p>
              <span>$1,064.75</span>
            </div><!-- list-group-item -->
            <div class="list-group-item">
              <i class="flag-icon flag-icon-gb flag-icon-squared"></i>
              <p>United Kingdom</p>
              <span>$1,055.98</span>
            </div><!-- list-group-item -->
            <div class="list-group-item">
              <i class="flag-icon flag-icon-ca flag-icon-squared"></i>
              <p>Canada</p>
              <span>$1,045.49</span>
            </div><!-- list-group-item -->
            <div class="list-group-item">
              <i class="flag-icon flag-icon-au flag-icon-squared"></i>
              <p>Australia</p>
              <span>$1,042.00</span>
            </div><!-- list-group-item -->
          </div><!-- list-group -->
        </div><!-- card -->
      </div><!-- col -->
    </div><!-- row -->
  </div><!-- tr-content-body -->
  <div class="tr-footer ht-40">
    <div class="container-fluid pd-t-0-f ht-100p">
      <span>&copy; 2021 Jassa</span>
    </div><!-- container -->
  </div><!-- tr-footer -->
</div><!-- tr-content -->

</body>
</html>
2. Now friends, please do the following steps because this is the most important:
1. Please make "assets" folder inside public folder.
2. Please download css files and script files from below url and please all that files inside "public/assets" folder.
https://therichpost.com/proadminassetsfiles.zip
---
Now we are done friends and please run your Laravel 8 project and see the ecommerce site home page.  Also and If you have any kind of query or suggestion or any requirement then feel free to comment below.
Note: Friends, I just tell the basic setup and things, you can change the code according to your requirements. For better understanding must watch video above.
I will appreciate that if you will tell your views for this post. Nothing matters if your views will be good or bad.
Jassa
Thanks